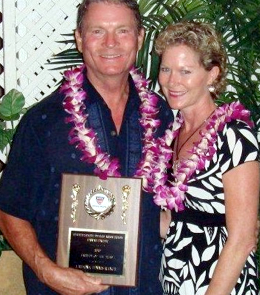 John and Cynthia Monnier
Owners of All Court Hawaii, John and Cynthia Monnier, have made their home in Hawaii for over 20 years, and have established reputations for quality and service in both resurfacing and tennis Club Management. John Monnier has had extensive involvement in the tennis scene both in Hawaii and on the mainland.
The Monnier Sports Enterprise Team manages both the Royal Lahaina Tennis Ranch and the Sheraton Maui Tennis Club.
All Court Hawaii began with a desire to offer quality courts to all levels of players, and has since expanded into a company dedicated to providing the Islands with the best resurfacing, court design, and construction.
Professional workmanship for over 20 years
All Court Hawaii is the premier provider for athletic court renovation, design, and construction, sealcoating, parking lot striping, and crack repair in the State of Hawaii.
All Court has provided professional workmanship and quality products for over 20 years. In addition, All Court Hawaii also excels in the repair and sealing of asphalt parking lots and driveways.
All Court's commitment to quality doesn't stop at the surface either; All Court Hawaii provides superior fencing, lighting, nets, poles, and supplies for any project, making them your one-stop-shop for outdoor fun.
When you choose All Court Hawaii you know that you are working with a company invested in the betterment of local communities throughout Lahaina, Maui County, West Maui, and Maui, HI. Contact us today!